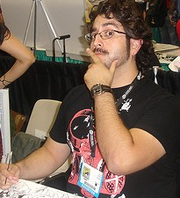 Carlos D'Anda is a professional illustrator who works for Wildstorm and DC Comics.
Biography
Carlos D'Anda is most noted for his work in comics such as DEATHBLOW and THE OUTSIDERS.
In 2001 he became the original artist for the BIONICLE comics series, where he was responsible for illustrating the first nine. He later resigned, though he eventually returned to work on the next LEGO project, HERO FACTORY, where he has illustrated the covers of the first five comics - The Trials of Furno, Core Crisis, The Enemy Within, Von Nebula, and Ordeal of Fire.
Trivia
In addition to comics, Carlos D'Anda has also contributed artwork to the game Batman: Arkham Asylum and is currently working on DC Universe Online.
External Links
Community content is available under
CC-BY-SA
unless otherwise noted.