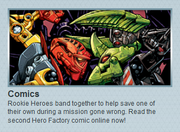 The Comics are illustrated publications that tell the story of Hero Factory through rich, graphic illustrations. They are available from a variety of sources, such as HeroFactory.com, special events including Comic-Con 2010, or merely through the LEGO Club magazines. Two upcoming books, To Serve and Protect and Galaxy's Most Wanted, will contain one comic each.
2010
Dc Comics
Others
Stormer Investigates
A Narrow Escape
2011
Dc Comics
Others
2012
Dc Comics
Breakout! Part 2 (Club Code: ROCKA)
Others
A Shocking Conclusion!
Haywire Hotwire! (Club Code: EVO)
See Also
External Links
Trivia
The 2012 comics are split into two parts: The first half can be read in the Lego Magazine and second half is a download file which requires the Club Code (and a Lego Club account) from the magazine to unlock it.
Though the LEGO group was going to have the comics uploaded onto the site after they released them, they stopped after Core Crisis.
Community content is available under
CC-BY-SA
unless otherwise noted.