"Knowledge Is Strength"
— Hero Recon Team Motto
Hero Recon Team is a special team composed of some of the most experienced Heroes. Recon Team is also the Hero Factory version of the LEGO DesignByMe.
History
The Hero Recon Team is a team of Heroes that was set up by Akiyama Makuro, in order to find and compile intelligence on the evils in the Universe. It was set up just after the creation of the Hero Factory, and was led by Merrick Fortis, a highly-skilled Hero personally chosen by Akiyama Makuro. Their headquarters are hidden somewhere in Makuhero City. They investigate the battlegrounds and crime scenes that the villains leave behind. They report the information that they find to the designers, Mission Managers, and Team Leaders. Rocka is one of the recent members of the Recon Team.
They watched William Furno and Rocka as they captured Voltix and were then dispatched to watch the Heroes after the Breakout, and one of them, Omega, followed Furno to Scylla, then Preston Stormer to Kollix IV and then Nathan Evo on Z'chaya. He then headed to Tansari VI and watched Jimi Stringer's battle with Voltix and then watched him being attacked by Core Hunter. Rocka remained at Hero Factory on Fortis' orders and defeated Black Phantom, though the HRT discovered the plans for Hero Factory had been sent to an unknown benefactor, who would later found the Brain Factory.
Appearance
Hero Recon Team members are usually outfitted with a black and silver chest plate as a sign of their lofty status, though some tend to use any other kind of armor at their disposal.
Weapons
Hero Recon Team members are trained to use a variety of different weapons.
Set Information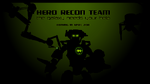 The Hero Recon Team was created in order to be a way for people to design their own Heroes, rather than just buying them. They can do this through the Hero Recon Team website, or through LEGO Digital Designer. They can then buy the Heroes for $12.99 USD, and get them delivered to their house. But due to the new Hero Creator being created, the Recon Team website was redirected to the Hero Factory website.
Trivia
Community content is available under
CC-BY-SA
unless otherwise noted.