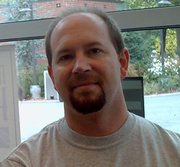 Kelly McKiernan, also known as Binkmeister, is an employee of LEGO, who works as the webmaster for HeroFactory.com.
Biography
Kelly's initial involvement with LEGO began when he was chosen as the grand prize winner of the 2001 "Build your own BIONICLE Website Contest" in the category for entrants ages 13 and over with his "Expedition One to Mata Nui" webpage. Using a web kit provided, he produced fictitious reports of a non-canon scenario in which human scientists discovered the "Isle of Mata Nui" off the coast of Chile.
Kelly was eventually chosen as the head of the web department for BIONICLE.com and BIONICLEstory.com after the previous webmaster left for maternity leave in 2007. His original contract was for just one year, from August 2007 to August 2008, but has since been extended each year, until he subsequently became the webmaster for HeroFactory.com.
Trivia
Crunchy was designed by Kelly McKiernan, using pieces found in Hero Factory sets 7147 XPlode and 7156 Corroder from 2010, specifically to appear in a series of photography tutorials on HeroFactory.com.
External Links
Community content is available under
CC-BY-SA
unless otherwise noted.